Chicago IL's Best Physical Trainers
Looking For An Effective Physical Trainer in Chicago? Contact Progressive!
Here at Progressive Sports Performance our mission is to provide individuals with the best knowledge and tools available for them to reach their goals - athletic, health, and aesthetics. Whatever aspirations a client may have, Progressive Sports Performance is 100% dedicated to using our advanced knowledge and experience in physiology to design an appropriate exercise and nutrition program to meet those objectives.
Our physical trainers and strength coaches will guide each individual through 'goal-oriented' exercise routines and make dietary and supplement recommendations based on each client's individual needs and situations.
---
Expert Personal Trainers In Chicago
One-On-One Personal Training sessions are designed for everyone - business executive, stay-at-home mom, or anyone else looking to get in great shape. Each personal training session runs 50-60 minutes depending on the fitness level of each individual and their personal goals. All Personal Training clients must undergo the Basic Structural Balance Assessment.
Energy Systems Training
Energy Systems Training is vital for any athlete looking to start their season in peak condition. Using a technique known as "applied strongman training" a Certified PSP Coach will design a program that will decrease body fat, increase lean mass, improve cardiovascular lactate threshold, and increase functional strength.
---
Sports Training Specialists in Chicago
All PSP Sports Performance clients will be required to undergo the Advanced Athletic Structural Balance Assessment. This advanced assessment includes techniques from Coach Charles Poliquin and other well-known strength coaches in the field of athletic performance. Experience has taught us that in order for an athlete to excel in sports and to minimize the risk of injury it is critical to identify any compensation patterns an athlete has developed during the repetitive actions of sports performance as well as any structural, mechanical and muscular imbalances that athletes may have.
One-On-One Strength Training sessions are for athletes looking to be at the top of their game. These sessions run 60-90 minutes depending on the age and level of the athlete. All athletes in this program are encouraged to train a minimum of 3 days a week to reach their top performance capabilities. All athletes must first undergo the Advanced Athletic Assessment.
---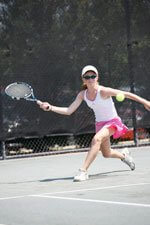 "Before I started working out with PSP, I didn't have much power on my shots, particularly my serve. I'm still working on generating more power, but now I can definitely hit harder and I can win points on my serve. When I started working out, I could only do 1 pullup, and now I can do 3 sets of 8, some with weight around my waist. And while improving, I've been able to avoid injuries, which is very important."
"Since I began working out with PSP in May 2007, I've committed more time to tennis, improving my ranking in the Midwest Girls 14's Division from 405 to my current rank of 51 and in National Girls 14's, I've gone from no ranking in May 2007 to 378 currently. I hope to continue my progress and PSP is an important part of that for me."
- Anna Ruth Kaplan
---
Our physical trainer can help you transform your body into the one of your dreams! Contact us today to learn more, and see why we're the preferred name for physical trainers throughout the greater Chicago area!