Highland Park IL's Leading Sports Trainers
Searching For An Expert Sports Trainer in Highland Park? Choose Progressive!
Here at Progressive Sports Performance our mission is to provide individuals with the best knowledge and tools available for them to reach their goals - athletic, health, and aesthetics. Whatever aspirations a client may have, Progressive Sports Performance is 100% dedicated to using our advanced knowledge and experience in physiology to design an appropriate exercise and nutrition program to meet those objectives.
Our sports trainers and strength coaches will guide each individual through 'goal-oriented' exercise routines and make dietary and supplement recommendations based on each client's individual needs and situations.
---
Expert Personal Trainers Serving Highland Park
One-On-One Personal Training sessions are designed for everyone - business executive, stay-at-home mom, or anyone else looking to get in great shape. Each personal training session runs 50-60 minutes depending on the fitness level of each individual and their personal goals. All Personal Training clients must undergo the Basic Structural Balance Assessment.
Energy Systems Training
Energy systems training includes, but is not limited to, the following exercises:
Various Sled Drags
Prowler Sprints
Tire Work (ex. flips, fights)
Sledge Hammer Work
Log Work
SAQ Training
Plyometrics
Battle Ropes
---
Sports Training Specialists in Highland Park
It has been our experience that an athlete who chooses to ignore the importance of correcting physical problems before starting a strength and conditioning program will limit their ability to reach their full genetic athletic potential and will most likely suffer injuries - sometimes career-ending injuries - that might have been easily avoided. By using the advanced screenings and identifying muscle weaknesses and compensation patterns that will increase the risk of injury and decrease performance, speed, power, strength and flexibility, Progressive Sports Performance is guaranteed to bring you to the top of your game.
One-On-One Strength Training sessions are for athletes looking to be at the top of their game. These sessions run 60-90 minutes depending on the age and level of the athlete. All athletes in this program are encouraged to train a minimum of 3 days a week to reach their top performance capabilities. All athletes must first undergo the Advanced Athletic Assessment.
---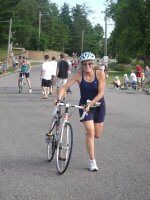 "I can say without a doubt that working with PSP has changed my life. I have always tried to eat healthy and stay fit -- I have run 5 marathons, two of them with a personal running coach. I regularly read fitness books and magazines and I never thought I would use a personal trainer -- I believed I was self-motivated and smart enough to manage my own fitness and training."
"After a knee injury caused me to have surgery almost 2 years ago, I started working with PSP to help get back into shape. Since then, I have learned volumes about general fitness and clean eating. I am in the best shape of my life and feel great. I love the fact that, every time I to to PSP, I have a completely different workout, tailored to my specific needs and fitness goals. In addition, if my knee is bothering me again or another event creates an injury (as when I fell down the stairs and hurt my shoulder), the coaches at PSP are ready with stretching and/or exercise suggestions to help the situation. They truly care about helping me to become the strongest and healthiest I can be. I recently competed in my first triathlon and finished with the best time I could have imagined, feeling strong and recovering easily."
- Ann Airey
- Winnetka, IL
---
If you think you could benefit from one of our sports trainers, don't hesitate to contact us today to learn more! Contact us ASAP to learn more, and see why we're the premier name for sports trainers throughout the greater Highland Park area!