Professional Sports Training Services Near Kenilworth IL
Looking For An Effective Sports Training in Kenilworth? Contact Progressive!
The mission of Progressive Sports Performance is to provide individuals with the knowledge and tools they need to reach their athletic, health and aesthetic goals. Whatever aspirations a client may have, Progressive Sports Performance is 100% dedicated to using our advanced knowledge and experience in physiology to design an appropriate exercise and nutrition program to meet those objectives.
Our trainers and coaches will help guide every individual through exercises and routines that are "goal-oriented" which can help them with their specific situations by the means of supplements, diets, and more.
It has been our experience that an athlete who chooses to ignore the importance of correcting physical problems before starting a strength and conditioning program will limit their ability to reach their full genetic athletic potential and will most likely suffer injuries - sometimes career-ending injuries - that might have been easily avoided. By using the advanced screenings and identifying muscle weaknesses and compensation patterns that will increase the risk of injury and decrease performance, speed, power, strength and flexibility, Progressive Sports Performance is guaranteed to bring you to the top of your game.
Meet Our Sports Training Coaches Near Kenilworth
Lea-Ann Domanski, MS, CPT, PICP1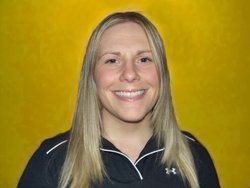 Lea-Ann Domanski is co-owner of Progressive Sports Performance. She has been in the strength training industry for 10 years as a strength coach to athletes and a personal trainer to the general population. She received her MS from Eastern Illinois University in Exercise Physiology and her BS from the University of Illinois at Champaign-Urbana in Kinesiology. Lea-Ann is a Charles Poliquin Level I Certified Strength Coach, holds the certificate of Biosignature Modulation through Charles Poliquin and is also certified through the National Strength and Conditioning Association. She was awarded the 2012 Rising Star Award by Eastern Illinois University. She has developed programs for all ages including classes for older adults, fitness-based camps for young children, and sport-specific strength classes.
Lea-Ann has been a Strength Coach for athletes in the following sports:
Field Hockey, Tennis, Baseball, Basketball, Volleyball, Swimming, Dance, Figure Skating and Soccer.
See Results With Our Sports Training At Progressive Sports Performance
We enjoy seeing out customers succeed with their fitness goals. Take a look at what some of the things our satisfied customers have to say about their experience here.
After multiple years of cross country I was very underweight and had very little muscle. Erv taught me how to workout in a healthy way by using a variety of exercises for each muscle group. He showed me how to eat in a way that was conducive to muscle growth and also how to structure my own workouts so that I can continue to workout independently while at college. In a little less then a year-and-a-half I gained 20 pounds in muscle. I would recommend PSP to anyone that wants to improve his or her lifestyle. It is a relationship that I value and one that I plan to continue during my time off from school. Jamie Gerber (Trained 2011-2012)*
---
My son, Luke (age 11), began training with the coaches at Progressive Sports Performance in October 2009. Luke quickly made significant improvements to his strength, stamina, and footwork, which is very evident on the court. The coaches/trainers at PSP have developed workout routines for Luke that are age-appropriate, but still get results. Most importantly, my son enjoys going to his workouts. Richard Kincaid for Luke Kincaid, Titans Basketball & Spartans Jr. Football (Northbrook, IL) *
---
I am a fairly athletic person who was having back issues for years. Whatever sport I would be playing, tennis, hockey etc. my low back would tighten up after about an hour and sometimes would just go out altogether. I finally got fed up and decided to get professional help. My PSP Coach, Erv, has been a tremendous help. I've been working out for about 6 months and my back is a ton better. I've had no issues while playing tennis or hockey for 2 hours. My general strength has increased and I've reduced my body fat. Joel Gettleman*
Why Choose Us For Your Sports Training in Kenilworth?
One-On-One Sports Training sessions are designed for everyone - business executive, stay-at-home mom, or anyone else looking to get in great shape. Each personal training session runs 50-60 minutes depending on the fitness level of each individual and their personal goals. All Personal Training clients must undergo the Basic Structural Balance Assessment.
Group sports training is a great program designed for individuals who want to work out with a friend or are interested in finding a workout partner. Groups will consist of 2 participants and one coach. For groups to work, they must have compatible strength levels, structural balance issues and common fitness goals. Each group member must undergo an individual Basic Structural Balance Assessment.
PSP does offer Corporate Memberships and services, if your company is interested in learning more about what PSP can do to make your work force healthier, happier and more productive give us a call!
---
Our sports training can help you transform your body into the one of your dreams! Contact us today to learn more, and see why we're the premier name for sports trainings throughout the greater Kenilworth area!