Employment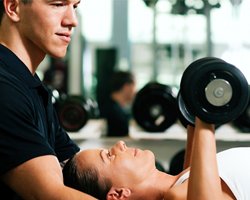 Progressive Sports Performance in Northbrook Illinois is seeking qualified applicants for the position of Strength Coach/Personal Trainer. All applicants must be career-oriented in the field and driven to further educate themselves on and off the job to improve their abilities as a Strength Coach/ Personal Trainer.
As a Strength Coach and Personal Trainer for Progressive Sports Performance you will work with both athletes (up to the collegiate level) and general population. Our training philosophies come from the most current and successful strength coaches world wide. Progressive Sports Performance designs individual programs for all clients based on an extensive structural balance test, as well as the client's goals. We also advise in nutrition and supplemental protocols based on the principle of BioSignature, a concept designed by Charles Poliquin.
Coaches will be paid hourly and have the potential to earn between $28,000 and $50,000. Initial pay rate will vary between applicants based on experience and will increase as further education and time on the job is acquired.
Job Requirements include good communication skills, the ability to motivate others, and a willingness to work hard. The individual must also show dedication to the job and the industry. A degree in exercise science or a health-related field is preferred, but not required. A certification of personal training or strength coaching caliber is preferred, but not required; however, if not available, one must have the desire to obtain such certifications.
To apply, send your letter of intent, resume and references to:
Lea-Ann Domanski
Progressive Sports Performance